Dawaai.pk has been the key player in the online pharmacy space and has made a name that is synonym with authentic medicines. Keeping in line with our tradition to incorporate technology and healthcare, so our consumers can experience convenience at the highest level, we proudly introduce the Dawaai app for Android and Dawaai app for iOS mobile devices.
The dawaai app is the perfect amalgamation of healthcare and technology, where you can not only buy medicines but view information about those medicines through your mobile devices. Most patients don't question their doctor about the medicines they are prescribed, but through the dawaai app, we are bringing transparency in the healthcare system. On our app, you will be able to compare the prices of medicines with similar generics, and through this feature, we aim to empower patients and their loved ones. Never again will you have to buy expensive medicines when their cheaper alternatives are available, you will be able to save upto 85% on your medicines through this feature available on the dawaai app. Through the dawaai app, you will also have access to information about the uses, side effects and precautions of medicines and will be able to read and understand the information on diseases being treated by these medicines.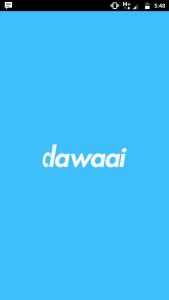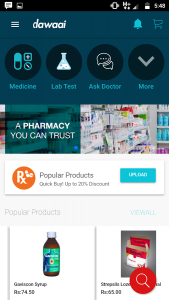 At dawaai, we are all about our customers, and this ideology comes through in our app as we try our best to make healthcare affordable for everyone. With this in mind, we have introduced our cash back policy, everyone who downloads the dawaai app for the first time and signs up or sign in will receive Rs.100 cash back in the form of dawaai coupon, which can be viewed on your Dawaai dashboard and will be applicable on any product or service site-wide.
You can also book lab tests through the dawaai app and view your results on your mobile device from anywhere. Our health monitoring tools will be available to you once you download the app, and on your personal Dawaai dashboard, you will be able to record readings for diabetes, blood pressure, and menstrual cycle monitoring.
This app is a part of our ongoing effort to bring healthcare to your doorstep and make our healthcare system as transparent as possible.