Not sure if you should opt for home nursing services or have concerns regarding home patient care services? We're here to answer all your queries about home nursing services in Pakistan and guide you in finding the best nurse for home!

Having a family member suffering from a medical ailment is a stressful experience. It not only has a mental and physical pressure on the caregiver but on the patient as well. Many people are often hesitant when it comes to availing any private home nursing in Pakistan thinking it could be more expensive.
Many older individuals become confused while taking medications, which can result in major health concerns for the patient, such as overdosing, dangerous medication combinations, or even missing medication for an extended period of time. Professional caregivers are trained to handle prescriptions and medications in order to guarantee that the patient receives adequate and appropriate treatment at the appropriate time.
Why Choose Home Healthcare Services in Pakistan
With the specialized nurses in Pakistan and getting professional a nursing team at home, you can enable comfortable and faster recovery for the patient. Medication costs tend to rise when a patient is dealing with many issues. Prescription management and medication management are critical since many doctors prescribe various medications for different illnesses.
So, if you're skeptical about opting for home nursing service in Pakistan, here are some of the reasons why you should consider getting home nursing services and experienced certified nurse for patients.
Cost-Effective:
In-hospital treatment is commonly far more expensive, and it is not cost-effective to maintain a patient in a hospital for an extended length of time. In-home care allows patients to get hospital-quality medical treatment in the comfort of their own homes. When compared to in-hospital treatment, it is extremely cost-effective.
Comfort at Home:
Hospitals are often linked with a gloomy atmosphere that can leave patients feeling burdened and anxious as a result of their surroundings. Seeing physicians, nurses, and patients on a regular basis may sometimes be discouraging.
Nursing service at home and home healthcare service allows patients to receive expert medical care in the comfort of their own homes. Being in your home's warm and caring environment helps the mind relax and reduce tension.
Closer to Family Members:
Assistance, while you're near your loved ones, boosts the morale of the patient as well. Nurse at home help the patients feel less lonely, and depressed abandoned which can complicate and cause other health issues as well.
Support in Daily-Life Tasks:
Patients also face difficulty performing basic self-care tasks such as bathing, grooming, and cleaning. Apart from wound-dressing and first aid administration, professional in home care and nursing service also makes it easier to carry out these daily activities.
Home Nursing Services for Elderly Patients
The elderly are often unable to take care of themselves due to their deteriorating health. Owing to old age-related problems such as arthritis, severe weakness, and alzheimer's disease in Pakistan in elderly, they need constant vigilance and assistance from professional nurses. You can provide the best home nursing care in Pakistan for your parents to ensure they get the best treatment and after-care.
When an elderly patient is discharged from a hospital after any medical emergency, it is highly advised that you opt for at home expert nursing services near you.
In Pakistan, most of the time, the family members and loved ones deem they can do so without a nurse or attendee at home, however, without being medically trained or having the basic first aid expertise, even the basic precautions they take themselves can lead to complications or mental stress on both the caregiver and patient.
At Dawaai, you can find the best healthcare and nurses for the elderly that are certified to provide the medical assistance you would need.
Dawaai Home Nursing Services – The Best Home Nursing Services in Pakistan!
Finding the best home nursing services in Pakistan? We have got what you need. With Dawaai.pk, you not only can buy medicines online in Pakistan conveniently, but avail more faculties as well.
No matter which city you are in and whether are looking for home nursing services in Karachi, home nursing service in Lahore, or even home nursing services in Islamabad, Dawaai has the solution for all. You can find the best male/female nurse with nominal home nursing services charges:
Check the prices for private home nursing care and home nursing services cost below:
Home Nursing Services Charges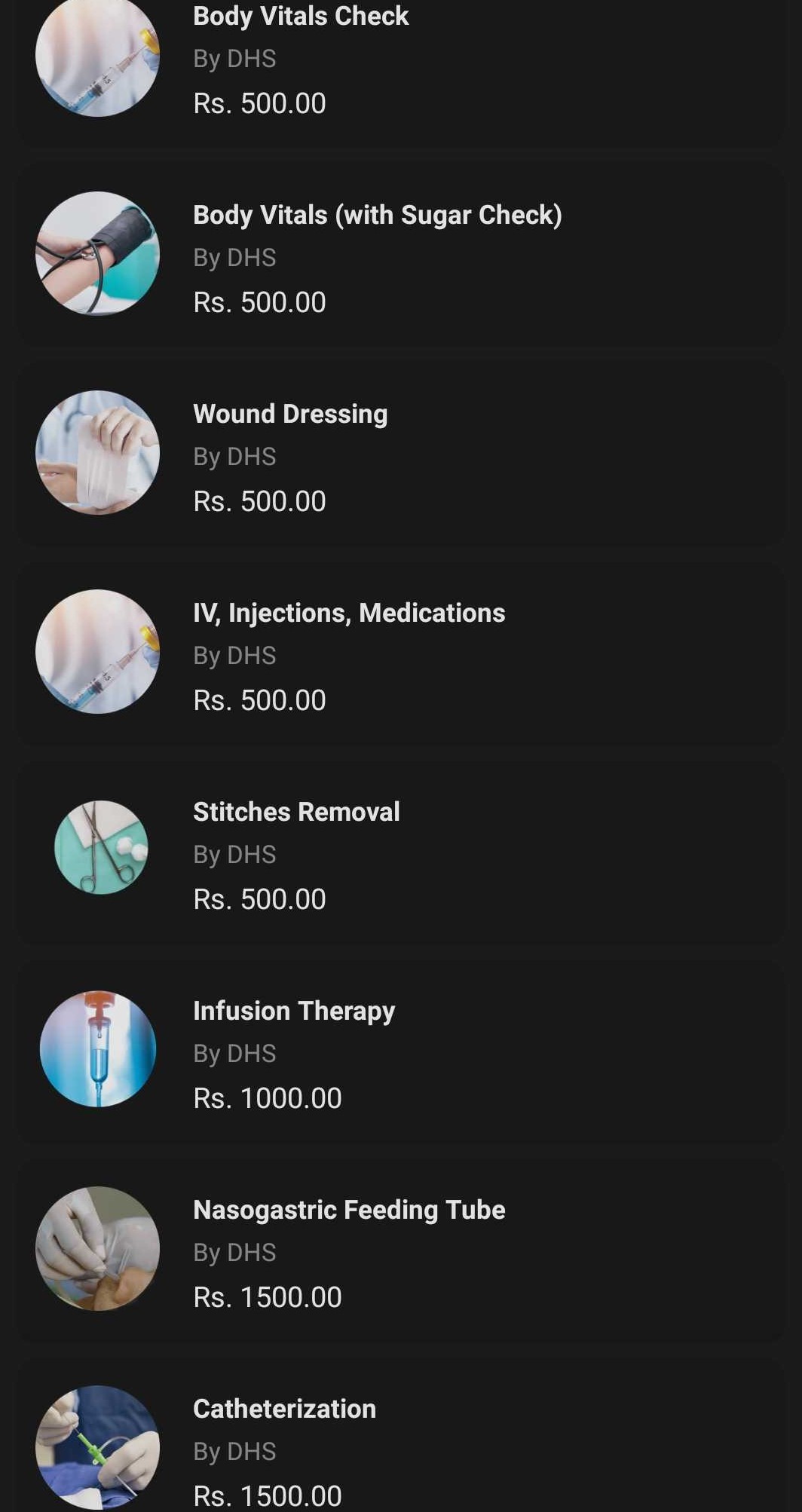 Moreover, with Dawaai, you can also opt for nursing home dental services. So, visit the Dawaai App now, the best home nurse service provider and sort through a wide range of home healthcare and home nursing services for any medical assistance now.