There is no doubt that getting treatment for an illness is no mean feat. In addition to going to the hospital, long waiting lines and crowd; the dent that high fees and charges of your physicians cause on your bank account is simply too much to bear. On top of that, when doctors prescribe expensive branded medicines, things actually seem to get out of your hands.
When a doctor prescribes you branded medicine that is too expensive, you can look for its generic substitute or an alternative medicine. Now for a layman, it may be difficult to understand the concept of a generic substitute and search for it. Here in this post, we are shedding light on the concept of generic substitutes of medicines and a reliable source in Pakistan to look for a generic equivalent of your branded medicine.
Difference between Generic & Branded Medicines
If you are confused and do not understand the concept behind a generic name and branded name of a medicine, you need not to worry. We are here to help you out with this. The generic name of a medicine is based on the key or on the most active ingredient of the medicine. Whereas, the branded name of the medicine is given by the company that manufactures it. For instance, paracetamol is the generic name of the medicine and Panadol and Calpol are its branded name.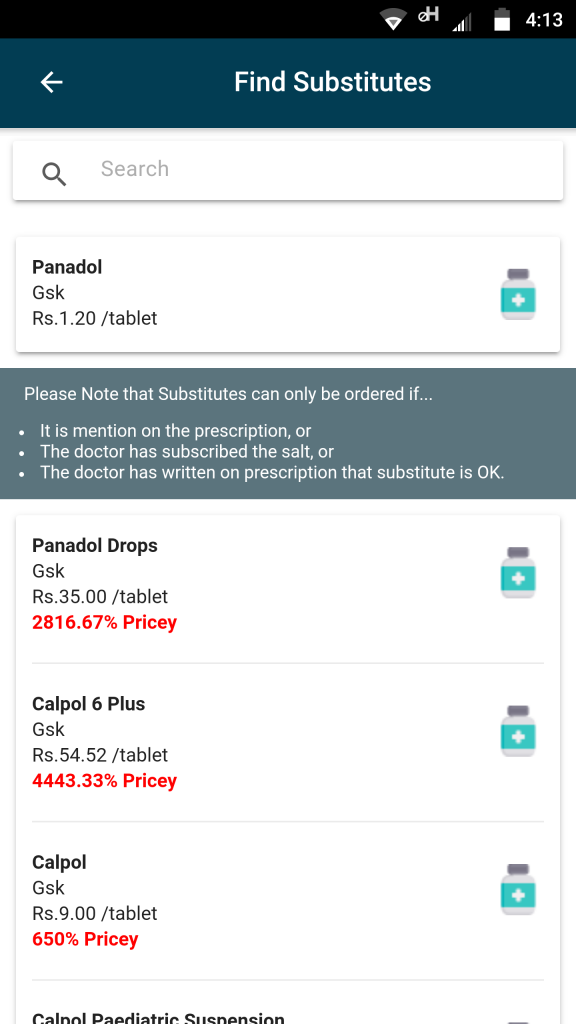 Reliable Source to Find Affordable Substitute of Prescribed Medicines
One reliable and trusted alternative medicine website in Pakistan is Dawaai which is not only an online pharmacy; rather, it is a complete digital healthcare platform. And, it is indeed the most reliable source in Pakistan for people to search for an affordable and alternative medicines in Pakistan.
You can look for substitutes of your medicines on dawaai.pk as well as on its app that you can download from Google Play Store if you are an android user and App Store if you are an iPhone user.
Dawaai website and it's app (available on Google Play Store and App Store) will not only find you perfect substitute of your medicines but will also help in improving your overall knowledge about your prescribed medicines by giving you detailed information about side effects, precautions, and interventions. However, it is highly advisable to consult your doctor before switching to alternative medicine.