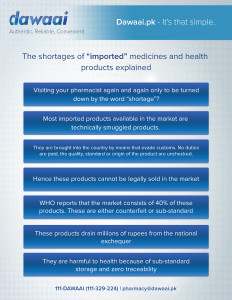 Firstly, it is important to understand what your pharmacy salesman means when he says 'imported' products.
Everything legally imported into the country, by definition, is sell-able and within the law. Pakistan Customs clears such products on arrival, duties, and taxes are paid and documentation is completed before they are released.
• Now most products currently sold in the market are NOT technically 'imported'
• These are 'smuggled' products brought into the country by 'khaipiyas'. It is common knowledge that these products are brought in via the sea route in small boats, suitcases of aircrew, etc.
Legally speaking, such items can not be sold in the market or used for commercial purpose.
As such, no Customs clearance takes place, the legality of these products not checked, and more importantly, there is no traceability of the origins of these products.
The ongoing crackdown by the government is to catch sellers of such products. Such business practices not only cost a lot to the national exchequer but are also dangerous for health given no traceability or adequate storage conditions.