Served with pita bread, crispy garlic-naan or with BBQ chicken skewers, Hummus is a great dip famous all around the world. It's a great dish for Iftar as well; healthy, easy to make and easy to store. Use this recipe and surprise your family at Iftar with a middle-eastern twist at the table.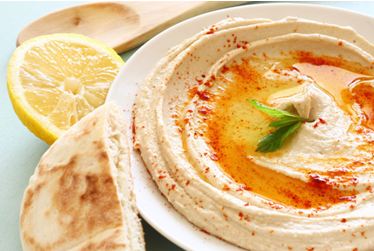 Ingredients
5 Unpeeled Garlic Cloves
2 Tbsp. Extra-Virgin Olive Oil
1 3/4th Cup Chickpeas (Channay)
1/2 Cup Tahini
1/3 Cup Fresh Lemon Juice
1 Tsp. Cumin (Pissa Hua Zeera)
1 Tsp. Salt
Pinch of Paprika
Method
1. Place garlic cloves on a large piece of aluminum foil. Drizzle 1 Tbsp. of olive oil on top and roast in a preheated oven for 15 minutes. After it has cooled down, peel the garlic cloves.
2. In your food processor, combine all ingredients: roasted garlic cloves, chickpeas, tahini, lemon juice, cumin, salt, and the remaining olive oil. For the olive oil, you can use a little more if you aren't getting the right consistency. It should be a thick paste.
3. Blend until creamy. Garnish with paprika.
Note: Tahini is easily available at supermarkets. You can make it at home too by blending together 1 cup sesame seeds, 4-5 Tbsp. of any mild oil and a pinch of salt.